hoy 3 discos, 2 de the 5,6,7,8's y uno de Buck-o-nine!


THE 5.6.7.8's / CAN'T HELP IT! (1991 AU GO-GO Records)


Tracklist (del 1 al 13)
1 AH-SO
2 LET'S HAVE A PARTY
3 PINBALL PARTY
4 JET COASTER
5 WOOLY BULLY
6 WILD THING
7 BOND GIRL
8 MOTOR CYCLE GO-GO-GO!
9 FRUIT BUBBLE LOVE
10 THE 5.6.7.8's
11 WOO EEE
12 EDIE IS A SWEET CANDY
13 I WAS A TEEMAGE CAVE WOMAN
THE 5.6.7.8's /TEENAGE MOJO WORKOUT (2002 Time Bomb Records)
Tracklist (del 14 al 25)
14 (I'M SORRY MAMA)I'M A WILD ONE
15 I'M BLUE
16I GOT A MAN
17 TYPHOON GIRL
18HANKY PANKY
19 HARLEM SHUFFLE
20 GREEN ONIONS
21 IN THE SUBWAY
22 TEENAGE MOJO WORKOUT
23 LET'S GO BOOGALOO
24 NEW ORLEANS ROCK
*25 WOO HOO (como bonus track).

bjalo aki!

Desde San Diego California.....
Llega esta muy buena agrupación, que desde 1991 ha incursionado en la música ejecutando un ska-punk con alguno tintes de reggae bastante ligerito y muy puesto para mover el esqueleto con un buen baile!.

Su nombre es

Buck-O-Nine

y son una banda de muy buen nivel, con un sonido muy agradable, con una buena base instrumental, una destacada sección de metales; buen ritmo en todos sus temas y la fusión de sonidos que manejan esta muy bien lograda, seguro que pasas un buen rato escuchandolos!.

Este es su tercer trabajo, de 1997 Twenty-Eight Teeth, un muy buen disco de principio a fín, bastante entretenido, divertido y lleno de matízes, es de lo mejor que esta banda nos ha obsequiado.

Buck-O-Nine / Twenty-Eight Teeth (1997 TVT Records).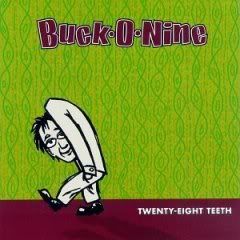 Tracklist.
1. Round Kid
2. Nineteen
3. Albequerque
4. Tear Jerky
5. I'm The Man
6. Jennifer's Cold
7. Steve Was Dead
8. What Happened To My Radio?
9. Twenty-Eight Teeth
10. You Go You're Gone
11. Peach Fish
12. Record Store
13. My Town
14. Little Pain Inside
bjalo aki
pss esto fue por hoy esperando ke hayan pasado una feliz navidad y ke venga un muy feliz año.. saludos!